How & why I came to visit the PI !


Greetings! My name is Mike.
After being in a car accident in 1986, at the age of 19, I ended up paralyzed from the neck down. I am a C4-5 quadriplegic. Since I could only use one arm, I was forced to use a heavy electric chair to get around. I went to collage at the University of Missouri and obtained my Mechanical Engineer degree. School was tuff but no matter how hard I tried, finding a girl friend, let alone a lifetime partner, seemed like an impossibility.
During collage, I started getting acquainted with websites introducing men and women for all around the world. I of course started looking here in the good old USA but in time those I did meet lost interest due primarily to my disability. I kept looking but as I went through school, my time became less and less as my studies grew and grew.
After I received my BSME degree, I was still interested in finding someone who might accept me for me. I had looked into many organizations in the USA, Russia, Ukraine, Philippines, and Asia and Europe as a whole. But due to my disability, I didnít think it would be remotely possible for me to travel outside the US. Sure there were some countries rich in accessible accommodations. But for the most part, the young ladies I would correspond with came from poorer countries that have little or no accessible hotels an even worse no transportation vehicles.
I continued my search just here in the States. Joining clubs and meeting a few young ladies at each. I joined local papers and for a long time tried the phone services where you could try and meet people. I was upfront about my disability and that I used a wheelchair. I did in the course of a few years meet many women. There were some that I really like but they didnít seem to like me. Others that liked me but couldnít get past my chair. And others, which I just didnít like. Just because I you are in a wheelchair, doesnít mean you have to sacrifice what you are looking for.
As I said, I did meet quite a few nice ladies, but I never really found what I was looking for. There was one, but she just couldnít see past my chair.
I looked, I talked, I emailed. Outside of the USA seemed like a long shot. Then after looking here for quite a few years, I then decided to open my search worldwide. I was serious now and decided after finding those who I was interested in, and those who were interested in me, I would then worry about accessibility issues.
I started writing dating services that were worldwide. I would contact each organization with a standard letter explaining my situation and if they thought they could help. Those who responded felt that some of the young ladies would not have an issue with my disability. The issue regarding accessibility was a whole other story. Most of the countries they had match making services had no provided disabled services. Hotels were old and had steps everywhere and accessible transportation was nowhere to be found. The hotel might be easier to deal with but my not being able to transfer to a car made my trip ideas mute.
I then decided that I might as well keep on trying. I was disappointed in most of the match making agencies. They had no answers. I figured that if I did meet a few ladies, that perhaps they could help me look into finding the accommodations I needed.
I was very aggressive this time in my search. I was going to find someone. I joined a few agencies that I found to be interested in me and that I found to be safe enough to join. No guarantees though. I put together a bio, describing myself, my needs and of course my disability. Low and behold I started receiving many letters.
I made myself a standard letter to handle the many responses. I even had to weed out some ladies because they did not fit my criteria. Pretty cool. I was swamped in time receiving 3-10 letters a week. Most sent letters with nice descriptions and some even included a picture.
My second letter also ended up being standard letter. I did do some special responses in those. But I primarily continued to discuss my disability and more about myself. In time I had received over 150+ letters for me to look over. I also wanted the ladies I wrote to have access to the Internet. I was not interested in waiting
2-plus-weeks to get a response.
I was worried that I did not find someone who just wanted a better life and would leave me once they got here. Money grabbers you can call them. So I tried asking questions to see if they were. The ladies that seemed too eager to please and had no background on my disability, I canned. It was not easy but I had to be safe.
I ended up weeding out as I went along. I found interest in three young ladies from the Philippines and two from Ukraine. I wasnít too sure what to do. The Ukraine ended
Continue >>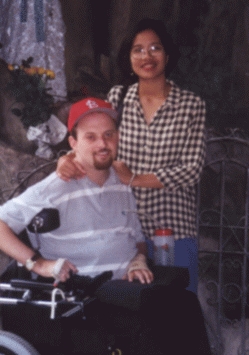 Our First Date.
Already she had her hands
all over me! ;-)
>> Continued

up being impossible to find help of any kind. Even though I was very interested in a lady with two kids, the possibility of me going there was not good.
I concentrated on the Philippines. What made things turn quickly to the Philippines was that I just met a friend who had married a girl from there. He isnít disabled but that didnít matter. I was already talking with ladies that after many emails back and forth. I felt more so comfortable that no I had a friend that could help me insure that those who I was interested in were true also. This also ended up being a comfort to those who I was writing. They too were wondering if I was who I said I was.
My wife even stopped writing me because she was unsure if she was interested and if I was who I said I was. After we got back in contact, I had her and my good friendís wife had her sister meet for my ďfutureĒ wife for lunch. The two only worked a few blocks from each other. This ended up being a huge comfort to us both. Not that I wasnít interested in the other two ladies. It just seemed meant to be.
In October of 1999, I visited my soon to be fiancťe/wife and her family on the beautiful island called Cebu. In the midst of the Philippine Islands (all 7,107 of them) I found my soul mate. I had been looking on and off for the past few years for my love.
Now that we finally found each other and, I was lost in knowing how I could go visit her. I looked at myself and said "Your disabled man, no way can you make it in the PI. With so many obstacles in the way, how could I go? I decided that no matter what, I was going.
The Philippines is a much richer, Americanized and accessible country. Not everywhere, but the main cities and hotels are. Even though, no travel agent had any clue for what I needed to do or where for me to go. I searched high and low on the Internet, but I only received partial help from some kind contacts. After searching and searching some more I was able to go and have a great and exciting time.
With the help of my wife, I was able to find a most accessible hotel. The transportation wasnít the greatest but it was sufficient for my 10-day trip. A Toyota van fitted with a steep ramp. With a little extra preparation and the help of my friend/attendant, I super quad man, jumped the Pacific Ocean to meet my soul mate.
I had a most awesome trip that I could have asked for or expected. To top it all off, I asked Lorena to marry me while at a restaurant in the hills overlooking Cebu City. We were engaged on November 5, 1999.Married on August 5, 2000. And Lorena had the twins on March 20, 2004. What else could I have ever asked for.

No, it was not easy to travel to a third world country like the Philippines. It takes time and extra planning to visit a country like this. But the end result was well worth it.
The PI isn't nearly as accessible as the USA. But it is possible to have an excellent trip with a little extra preparations and planning. And by finding someone like myself who has done it before.

Cebu is a great place to visit. So, get your wheelchair tuned up and ready to go. This site is more so dedicated to those like myself who use electric motorized wheelchairs. However, manual wheelers and the like can benefit from some of these great ideas and suggestions.
Enjoy Life!

Come Visit us at our Home Page