A short description of some of the mentioned sites.
Cebu offers beautiful coasts that provide scuba diving enthusiasts an unrivaled haven at a number of diving sites in Mactan. Also most jewelry, especially black coral and aquamarine and pink pearls, are available and cheaper in Cebu than in other cities. Cebu is an ideal place from which to start off to see the other islands as there are flights as well as ships out of the city to important towns or surrounding islands.
The city of Cebu is located in the Central Visayas region. Affectionately called the "Queen City of the South," it is the oldest city in the Philippines and is rich in history. It was the site of many Spanish expeditions and became a thriving commercial city in the 19th Century.
The island-province of Cebu sits in the centre of the Philippine archipelago and is served by international and domestic charter flights to and from its airport; Cebu is also a shipping crossroads. It is therefore a good jumping-off point for island hopping to the tropical islets of the central Visayas region. Within easy reach are the caves and lagoons of Calanggaman and Gato; the beaches of Argao, Oslop and Carmen; and the favorite dive spots of Moalboal, Badian, Mactan and Olango.
The Cebu metropolitan area is the country's second biggest city, and, along with its adjacent Maktan Island, has become a bustling package tour destination, particularly for Japanese visitors. It abounds with shopping malls, fast food outlets, casinos, golf courses and all-inclusive resort hotels to cater for the holidaymakers who come to enjoy the sandy beaches and glorious balmy weather.
Cebu's main claim to fame is its colorful festival, held every third Sunday in January, known as the Sinulog. The festival is a religious celebration wherein various tribes in dazzling costumes hold aloft images of the infant Jesus. The revelers wend their way through the city streets from early morning to evening, singing and dancing.
Cebu is also the country's oldest Spanish colonial city and has several historic landmarks, including the original cross planted by Magellan in 1521 when he baptized the first group of Filipino natives into the Catholic faith. The cross is now housed in a roofed kiosk in Magallanes Street. Downtown Cebu is dominated by Colon Street, the oldest street in the Philippines, dating from the 16th century and today lined with stores, shopping malls, office buildings and movie theatres.
Today, it is the country's second-busiest city and the main gateway in central and southern Philippines. It is also one of the country's favorite tourist destinations and serves as a jump-off point for tourists who want to visit its world-class beaches and resorts. Cebu's Mactan International Airport stands as the best in the country.
[Top]
Carbon Market (Cebu City)
A big and colorful market, crammed with stalls of fruits, vegetables, meat, fish, and handicrafts.

Taoist Temple (Cebu City)
Offers a commanding view of the city. It is situated on Beverly Hills, the millionaires' quarter of Cebu City.

Tops (Cebu City)
A lavishly built viewpoint on Busay Hill, which provides the best panoramic view of Cebu City, with Mactan Island and Bohol in the background.

Cebu Heavenly Temple of Charity (Cebu City)
An attractive and colorful temple built on a hill. It has a natural spring flowing underneath the building.

Mactan Island (Around Cebu)
Has a row of beautiful beaches and exclusive beach hotels and resorts. You will also find here the Lapu-Lapu Monument on the beach at Puerto Engaño, Marigondon Beach, the guitar factories at Maribago, and Olango Island, a bird sanctuary.

Tabunok Market (Talisay/South Coast)
Offers some interesting sights.

Naga Church (South Coast)
Has an attractive exterior.

Carcar (South Coast)
This town has a lovely, quasi-baroque church, which was completed in 1876. Its plaza is lined with attractive, Spanish buildings, which were formerly mansions. It is specially known for its ampao (sweet puffed-rice) factories.

Moalboal (South Coast)
A popular town known for its several islands that offer good diving opportunities.

Panagsama Beach (South Coast)
A destination for low-budget travelers and divers; has a fabulous coral reef.

Kawasan Falls (South Coast)
A 12-meter waterfall, said to be the best in Cebu. Its natural pools are ideal for swimming. It is also a good starting point for mountain treks.

Badian Island (South Coast)
A peaceful island with a white sand beach.

White Beach (South Coast)
A sandy beach, which is a good base for diving and snorkeling.

Fort San Pedro (Cebu City)
The first Spanish fort in the Philippines built to keep out marauding pirates. Much of the fort was destroyed during the second World War, but it was restored in the late 1960's. It is run by the National Museum. Fort San Pedro, located at Cebu City's wharf area, was the nucleus of the first Spanish settlement in the country. It began as a single triangular bastion, built in 1565, and was not completed for another 200 years. Over the centuries the fort has been put to several uses, including a watch-tower to counter pirate attacks in the 1700s, a prison for local rebels during the Philippine revolution, a US army barracks, and during world war II a prison camp. Today the fort has been turned into a museum-park, giving visitors to Cebu a glimpse of the island's history. Opening time: Daily 8am to 7pm; Admission: P15

Magellan's Cross (Cebu City)
This cross, erected by Ferdinand Magellan, marked the beginning of Christianity, after the first Catholic Mass was celebrated here on April 14, 1521.

Basilica Minore Del Santo Niño (Cebu City)
The only Catholic Basilica in East Asia that houses the image of Santo Niño, believed to have been left by Ferdinand Magellan. The oldest religious relic in the Philippines, an icon of the infant Jesus, is housed in the basilica, having miraculously survived fire and other catastrophes through the years since the image of Christ was first presented by Magellan to Queen Juana in 1521. The church itself was originally built in 1565, but was rebuilt in 1602 after a fire.

Casa Gordo Museum (Cebu City)
Houses historic and cultural relics of old Cebu, a collection of photos, and contemporary art and paintings.

University of San Carlos Museum (Cebu City)
Houses a well-labeled collection of religious carvings, ethnic artifacts, preserved botanical and geological specimens, and archaeological finds.

Pescador Island (South Coast)
A good diving and snorkeling spot.

Escala De Jacobe/Jacob's Ladder (Samboan/South Coast)
A plight of store stairs built in 1878, which leads up to an old watchtower on a plateau about 65 meters above the town. From here, one can get a magnificent view of Tañon Strait.

Sumilon Island (South Coast)
A private destination for divers and snorkelers.

Montalongon (South Coast)
Called the "Little Baguio of Cebu." The market here is worth visiting, with its handicrafts and a wide range of local produce.

Camotes Island (North Coast)
Has four islands (Pacijan, Poro, Ponson, and Tulang) with attractive white sand, palm-lined beaches, and caves.

Sogod (North Coast)
You will find Bagatayam Falls, Labangon Caves, Libaong Hills (good for bird watching) nearby.

Malapascua Island (North Coast)
Has little fishing villages, deserted idyllic bays, and beaches ideal for swimming and snorkeling. It also has a lighthouse, which offers a panoramic view from the top.

Bantayan Island (North Coast)
Has beautiful sandy beaches and nice dive spots. You will find here Santa Fe, Maricaban, Sugar, and Paradise Beaches, and Ogtong Cave, with its freshwater spring.
[Top]
EAT
The great thing about Cebu is that, while being an island paradise on the one hand, it's also a sophisticated city, with a wide range of pretty decent restaurants to choose from.
Cebu has Chinese, Japanese, Korean, Italian, Continental, Fusion, and of course local Restaurants. It also has International Cuisine like American, Spanish, Thai and Indian.
Street-food in Cebu is abound, and it is amazingly cheap to buy all sorts of Philippine delicacies from the many street stalls stationed around the place, especially in Cebu City. Traditional Marinated Sweet Pork or Chicken Barbeque on sticks is a must-try, along with "Halo-Halo", a refreshing mix of grated ice, sweet beans, tropical fruits & Ice cream which would be a welcome treat in the heat!
[Top]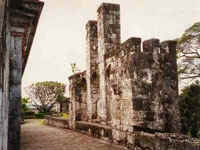 Fort San Pedro
Magellan's Cross
(Magellanes St.). Planted in April 21, 1521 by Ferdinand Magellan; spot where the first Christian Filipinos, Rajah Humabon and Queen Juana and about 400 followers, were baptized by Fr. Pedro Valderema. In 1525 to 1740, the Agustinian priests built an open shrine for the cross but the natives began to take chips from the cross believing it had miraculous power so a kiosk-like structure was built to protect the cross from total destruction. To protect it further, a hallow cross of tinadalo wood was made to encase the original cross which still stands today.

Fort San Pedro
(Pier Area, Cebu City). The smallest, oldest tri-bastion fort in the country. This served as the nucleus of the Spanish settlement in the Philippines. It has a total inside area of 2,025 sq. meters. The walls are 20 feet high, 8 feet thick, and the tower is 30 feet high from the ground. Work was first started on May 8, 1565 with Miguel Lopez De Legazpi breaking the ground. After the battle of Manila Bay, Commodore George Dewey turned the fort to the local Cebuanos, and then it became the American Warwick Barracks during the American Regime, which was later converted into classrooms where the Cebuanos received formal education.

During World War II, from 1941 to 1945, it served as fortification for Japanese soldiers. When the battle for liberation was fought, the fort served as an army camp. After 1950, Cebu Garden Club took over and fixed the inner court into a miniature garden. For a couple of years it also housed the Cebu City Zoo. In 1978 to August 15, 1993, it housed the offices of Department of Tourism and the Philippine Tourism Authority. At present, it is under the care and administration of the PTA and now houses the National Museum that showcases the San Diego shipwreck & Fort San Pedro diggings.

Heritage of Cebu Monument
(Colon St., Cebu City). Located in the original Plaza Parain, it showcases the significant and symbolic events in the history of Cebu from the time of Rajah Humabon to the recent beatification of Cebuano martyr Pedro Calunsod. The monumental sculptural tableau is the work of national artist Edgardo Castrillo. Construction began on July 1997 and it was inaugurated on Dec. 8, 2000.

Magellan Marker
(Punta Engaño, Lapulapu City). Inspired by his success in Christianizing the people of Cebu, Magellan crossed the channel to Mactan Island in an effort to spread the faith. Before he reached the shore, he was killed by island chieftain Lapulapu and his men during the battle for supremacy and freedom on April 27, 1521. Efforts to retrieve the body of Magellan were futile inspite of the offer to trade jewelries and spices for the dead body. This marker was erected in 1866 to mark the spot where the great explorer died.

Colon Street
The oldest street in the Philippines was built by the Spaniards in the time of Miguel Lopez de Legazpi. Named after Christopher Columbus, it is the heart of downtown Cebu, a glittering area by night lined with movie houses, restaurants, department stores, and other business establishments. An obelisk detailing its historical significance was constructed on its northern end.

Lapulapu Monument
(Punta Engaño, Lapulapu City). Site where the battle between Mactan Island Chieftain Lapulapu and the foreign aggressor Ferdinand Magellan occurred in April 27, 1521. It depicts the hero holding a bolo in one hand and a pestle on the other. Said weapons were believed to have been used during his combat with Magellan. This monument stands as a reminder of Filipino bravery.

University of San Carlos
(P. del Rosario St., Cebu City). The oldest school in the country established in 1565. This was formerly called Colegio de San lldefonso, established by the Jesuits.

Capitol Building
(Osmeña Blvd., Cebu City). The seat of the Provincial government, is of pre-war vintage, and has the undulating mountains of Cebu for its background. Majestic and imposing, its high dome can be seen along Osmeña Boulevard. A replica of the United States' White House. One of the many beautiful capitol buildings in the country, constructed in 1937 under the administration of Governor Sotero Cabahug.
[Top]
Casa Gorordo Museum
(35 Lopez Jaena St., Cebu City). Home of the first Filipino Bishop of Cebu, Juan Gorordo (1862-1934). A tour inside this residence is a brief journey into a Filipino lifestyle in a particular period between 1860 & 1920. The place presently features noted paintings, museum relics, a courtyard, antique household items and furniture. The museum also showcases some contemporary art exhibits. Address: 35 Lopez Jaena Street; Opening time: Mondays to Saturdays 9am to 12pm and 2pm to 6pm
Fort San Pedro National Museum
(Legaspi Ext., Cebu City). Artifacts taken from the old Spanish Galleon known as San Diego within the deep sea of Fortune Island off the coast of Nasugbo, Batangas are on display in this centuries-old fort. Artifacts excavated within Forts San Pedro's premises are also on display. The Museum used to house the offices of the Department of Tourism and the Philippine Tourism Authority.

University of San Carlos Museum
(P. del Rosario St., Cebu City). A product of years of research activities of the Anthropological Department's faculty in Central and Southern Philippines, it has four galleries: Spanish Colonial, Ethnographic, Archeological, and Natural Science.

The Southwestern University Museum
(Urgello Private Road, Cebu City). Holds the extensive collection of Lydia Aznar Alfonso reflecting the flourishing trade, lifestyle, and culture of the port city Cebu in pre-historic times. Exhibits of excavated gold, trade beads, coins, iron-age potteries, rare trade wares of porcelain from China, Cambodia, Vietnam, and Thailand, including Ming, Celadon, and other China trade jars, as was Ban Chieng, Haripunchai pottery, and gold teeth peggings were excavated in the areas of Cebu, and the Visayas and Mindanao. The museum also displays heirloom jewelry, santoses, and church carvings and other church accessories.

Julian Jumalon's Butterfly Sanctuary and Art Gallery
(20-D Macopa St., Basak, Pardo, Cebu City). The country's oldest butterfly collection and Butterfly Sanctuary with live immature- and adult-stage local butterflies in their natural settings. It also houses the Lepido Mosaic Art collection, so called because it utilizes butterfly wings as its medium. Beautiful and intricate samples of these artworks can be seen. Located in the Basak district, this private museum created by late lepidopterist, Professor Julian Jumalon, houses his unusual collection of mosaics, made up of butterfly wings. The garden of Jumalon's home continues to be a haven for thousands of butterflies, and the 'lepido mosaics' are displayed in the salon. Address: 20 D Macopa Street, Basak; Telephone: (0)32 91029; Opening time: By appointment
Rizal Museum and Library
(Osmeña Blvd., Cebu City). Located within Cebu City Library along Osmeña Boulevard, it showcases a collection of antiques donated by famous and rich Cebuano families. Also on display is a collection of artworks of the Cebuano painters and artists. Its upper floor is utilized as a performing arts hall for concert and theatre productions by Cebu talents. On the ground floor is the Rizal Memorial Library which keeps some important books on Cebuano history and culture.

Arcenas Antique Collection
Spanish period furniture and "santoses", jewelries, pottery, porcelain wares are on display at Dr. and Mrs. Ramon Arcenas' residence located at Banawa, Cebu City.

Rose Ong Orchid Collection
So beautiful and varied, the biggest orchid collection in the province.

Aznar-Alfonso Antique Collection
Owned by Dr. Lydia-Aznar Alfonso, the antique collection is of much younger vintage. Pieces of lovely period furniture, a very wide collection of jewelry, "santoses" as well as authentic "grave goods" from various archaeological diggings in the island of Mactan and Cebu helped enrich Dr. Alfonso's beautiful collection.

Pres. Sergio Osmeña Memorabilia & Cap Art Gallery
(60 Osmeña Blvd., Cebu City). Contains an estimated 500 personal belongings and documents worthy of remembrance of the Grand Old Man of Cebu, made possible by various donations of generous friends and relatives of the former president. Rizaliana Museum. Contains the memorabilia of Dr. Jose Rizal given by his sister to the University of Southern Philippines Museum.

Rizaliana Museum
Contains the memorabilia of Dr. Jose Rizal given by his sister to the University of Southern Philippines Museum.

Sala Piano Museum
(415 Gorordo Avenue, Lahug, Cebu City). Houses the Ingrid Sala Sta. Maria Miniature Piano Collection donated to the family foundation in January 1990. A unique collection of hundreds of pianos of varying sizes and shapes. Venue to classical concerts and houses a music foundation.
[Top]
Bohol
The island province of Bohol is one of the loveliest in the Visayas group and lies southeast of Cebu. It has plenty to offer in the form of historical and natural attractions. The world's rarest seashells, like the Gloria Maris and the Golden Cowrie, can be found here, as well as the tarsier, the large-eyed insect-eating monkey which, fully grown, is smaller than a child's fist. Here too are the world-famous Chocolate Hills, a surreal series of 1,768 hills that resemble scoops of chocolate ice cream; they were formed from the weathering of coral deposits formed when the land was submerged and can be viewed from an observation deck. Historically Bohol laboured under 302 years of Spanish rule after the local chieftain signed a 'blood contract' and many buildings, particularly beautiful churches, remain as testimony to the period of colonial rule and the struggle to be free of domination. Website: www.bohol.ph; Transport: Ferry or privately-run scheduled boat from Cebu City to Tagbilaran City, capital of Bohol Island (about 90 minutes)
Mactan Island
(across Mandaue City). A coral island and famous scuba diving site, where beach resorts of international standards are located. Also the site of the Export Processing Zone, with 102 companies in operation, employing 37,118 people. Land area – 150 ha.

Malapascua Island
(across the northernmost tip of Cebu). It was on Christmas day when the Spaniards reached the island. According to town folks, it was supposed to be a special day of celebration but unfortunately a storm hit the island and so came the name "Malapacual", Malas sa Pasko, which means "Unfortunate Christmas" in English. Malapascua is sometimes referred to as "Logon", the main community in the south. "Logon" got its name when the Japanese and Americans fought over the island during WWII. The island is 3 km. long and 1 km. wide, with a population of about 3,000. It has white sand beaches and crystal clear waters. The west coast is ideal for swimming and snorkeling but one should be careful because of unpredictable weather. A walk or tour on the whole island can be done within half a day.

Camotes Island
(north of Cebu, across Danao City). The island is composed of 4 towns: Poro, San Francisco, Tudela, and Pilar. To cross the island, one has to go to Danao City, an hour away from Cebu City, or take a fast ferry. There are two boats which travel to and from the island and Danao City everyday. One fast craft travels from Cebu City.

Kawasan Falls
(Matutinao, Badian). One can feel the surrounding lush greenery of the panoramic waterfalls.

Badian Island
97 km. southwest of Cebu City. Famous for beautiful corals, reefs, and white sandy beaches, making it an excellent diving spot.

Boracay
The tiny butterfly-shaped island of Boracay in the western Visayas has been 'discovered' by trendy international sun-lovers, and has become the Philippines' most popular beach destination. Thousands have sung the praises of the white, talcum-fine powder sand on a two-mile (four km) stretch of palm-studded beach that is said to glow at night, while the crystalline sea reflects the colo of the unblemished blue sky. Despite its popularity Boracay remains un-spoilt, offering a range of about 350 hotels and guesthouses, nightlife, good restaurants and a huge array of water sports. The island code is barefoot and informal, and the transitory holiday population comes from all over the globe. Website: www.boracayisland.org; Transport: Flight from Manila (one hour) or Cebu to Kalibo or Caticlan
Olango Wildlife Sanctuary
Olango Island supports the largest concentration of migratory birds found so far in the country. Migration starts from the birds' breeding places of in Siberia, Northern China, and Japan. Based in data gathering so far, the birds use Olango as a major refueling station as well as a wintering ground. At Olango, the birds can replenish their fat reverses by feeding on rich supplies of invertebrates in the inertial mudflats. These fat reserves must fuel the birds on the next lap of their journey which may cover from 3,000 to 15,000 km. of nonstop flight.

Moalboal
89 km. southwest of Cebu City. Offers white sandy beaches and rich marine life for scuba diving. Notable as an excellent diving area is the water around Pescador Island.

Nonoc Cave
(Borbon). 83 km. north of Cebu City. Very picturesque view, shelter for picnic goers and bathers.

Mactan Island
(across Mandaue City). Famous for its beach resorts of international standards and excellent diving, its proximity to Cebu makes it a prime destination for local and foreign travelers. It is also the site of the Export Processing Zone, with over 100 companies in operation, employing close to 40,000 people.
Badian Island Resort and Spa Cebu -
At BADIAN ISLAND BEACH HOTEL you can savour the beauty of a TINY PACIFIC ISLAND basking in the tropical blue sea of the Philippine archipelago. Located in the Badian Bay at the sunset coast of Cebu, the guest will be WARMLY WELCOMED at the airport and accompanied to the hotel by our staff. On the island 25 Villas nestle harmoniously in a blossoming tropical garden, surrounded by WHITE SANDY BEACHES and CRYSTAL BLUE WATERS.
The Badian Island Resort & Spa at the southwest side of Cebu is just a two and a half hours drive from Cebu International Airport, where our guests are warmly welcomed by our staff. Nonstop flights from Hongkong, Singapore, Kuala Lumpur, Tokyo, Osaka, Seoul and Taipeh arrive at Cebu International Airport daily. Domestic flights are only one hour from Manila per Airbus or Boeing 737/747.
White Sands at Maribago Beach –
Cebu White Sands Beach is situated on the east coast of Mactan Island off the main island of Cebu. Set Amidst a tropical splendor of island life, the resort is a scenic blend of turn of the century architecture and furnishings with modern facilities for your style and comfort.
It is only 15 minutes by car from Mactan International Airport and 40 minutes away from the historic Cebu City. Guests can go island hopping to an idyllic spot in the middle of the Mactan Channel, Islas Tres Rosas, a 3-islet cluster just 30 minutes by motorized boat from the resort.
Island and Sun Beach Resort –
Escape to the Island & Sun Beach Resort, an island retreat combining natural beauty with casual elegance, modern comforts and fabulous cuisine. Island & Sun Beach Resort is built on stilts. Seemingly afloat from a distance, each room's verandah offers a breathtaking panorama of the calm open sea and the neighboring islets across. The view of the sunrise and sunset are equally captivating from each of these twenty five suites.
Daily flights from Manila to Cebu are available. From Manila Domestic Airport, it takes 55 minutes to arrive at Mactan International Airport. By sea, it takes 20 to 21 hours via inter-island vessels. There are flights from HK, Singapore, Malaysia, Japan and Australia direct to Mactan International Airport and from the Airport, it takes 7 km. to get to Cordova Reef Village Resort by land (approximately 30-45 minutes). A boat ride from Cordova Reef Village Resort to Island & Sun Beach Resort takes 15-20 minutes.
[Top]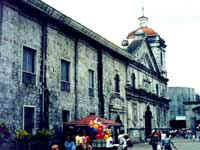 Santo Nino Basilica, Cebu © Philippines Department of Tourism
Basilica Minor del Santo Niño
This church was built by Miguel Lopez de Legaspi and Fr. Andres Urdaneta on the site where the image of Santo Niño was found in 1565. The first structure of the church was however destroyed by fire on November 1, 1568. It was rebuilt in 1602 under the administration of Juan Albaran and was rehabilitated in 1740. On May 1965, the church was conferred the title of Basilica Minor del Santo Niño by Cardinal Antonuitte, Papal Legate during the Fourth Centennial celebration of the Christianization of Cebu.

Image of Santo Niño
Considered as the oldest religious relic in the Philippines. It was on April 21, 1521 that Magellan gave the image to Queen Juana as a baptismal gift. Forty-four years later, on Apri1 27, 1565, when Miguel Lopez de Legaspi arrived in Cebu, Fr. Andres de Urdaneta, who formally Christianized the Cebuanos, found the natives hostile. Legaspi himself besieged the settlement and set the village on fire. It was on one of the burnt houses that Juan Camus, a soldier, found the image of Santo Niño unscratched. Since then the miraculous image has been venerated by the Cebuanos as their Patron Saint. At present, the miraculous image is kept in the Parish Covent, and a replica is adorned with gold and precious stones and enshrined in glass. It is housed in a side altar inside the Basilica Minor del Santo Niño.

Taoist Temple
(Beverly Hills, Cebu City). The temple preserves the teachings of Lao-Tse, the 600 B.C. Chinese philosopher. Everyday people climb its 81 steps (representing the 81 chapters of Taoism scriptures) to light joss sticks and have their fortune read.

Phu-Sian Temple
A Buddhist Temple, the third Chinese temple on Beverly Hills, located at the right side of the road to the Taoist Temple.

Chapel of the Last Supper
Life-sized carvings of the Lord Jesus and his 12 apostles seated at a long table for the Last Supper. This is the only one of its kind in the country. This treasured relic is found in the Church of Mandaue City that dates back to 1601.

Celestial Garden
(Banawa Hills, Cebu City). Owned and managed by the Tanchan Foundation. Twelve hectares of rolling hills where life-size statues depicting the drama of the Stations of the Cross were built.
[Top]
Cebu Botanical Garden
(Camp Marina, Capitol Hills). Where plant hobbyists can see a collection of greenery.

Liloan Lighthouse
Found in the municipality of Liloan, around 18 km. north of Cebu City. Built by the American in 1904.

Mandaue-Mactan Bridge
Built in 1972 at a cost of P65 million. This 864-meter bridge connects the islands of Mactan and Cebu.

Plaza Independencia
A popular hangout during weekends, centuries-old acacia trees dot this park.

Fuente Osmeña Park
(Osmeña Blvd., Cebu City). A lovely circular park with a beautiful fountain in the middle. Named after Cebu's Grand Old Man, the late President Sergio Osmeña, Sr.

Tops
Situated 2,000 above sea level on the cool hills of Busay, it is an excellent sight-seeing spot which offers a breathtaking view of Metro Cebu and the islands of Mactan and Olango. Open kiosks are available for daytime picnics and instant evening parties.

Guitar Factories
(Maribago District, Lapulapu City). One can actually see how guitars are made. It is amazing to note that while guitar-making is the occupation of the people of Mactan District; the raw materials used have to be shipped from Mindanao and nowhere on the island can be found such materials.
[Top]
Sinulog Festival (Cebu City) - third week of January
Cebu's biggest and most popular festival, celebrated in honor of the Holy Image of Sto. Niño de Cebu. The event is highlighted by a grand solemn procession and a Mardi Gras parade. The feast is in honor of the Holy Image of Senyor Santo Niño de Cebu. Fiesta Senyor, as it is widely known, is the most celebrated among Cebu's festivals, where people converge along the routes of a grand solemn procession and partake in the gaiety amidst a madri gras parade immersed in wild colors and the constant beating of drums.
Tagbo
(Poro, Camotes Island, Cebu; every January). Celebrated in honor of the Patron Santo Niño de Poro. Beloved memoir of a living past, Tagbo is the cornerstone from which this great municipality has sprung. Rich in cultural heritage and deep in spiritual values, Tagbo is a very significant event preluding the birth of a town very dear to the hearts of her sons and daughters.
Cebu City Charter Day (Cebu City) - February 24
A celebration of Cebu City's charter day, highlighted by activities such as parades and cultural presentations attended by Cebu officials and guests.

Sanayon
Agro-tourism festival in the southern towns of the second district about 100 km. from the city. A month-long activity to spread out tourism to the countryside.

Via Crucis
(Banawa Hills, Cebu City). A Lenten activity where devotees do their penitential procession through the Stations of the Cross built on 12 hectares of rolling hills.

Cassava Festival - April (moveable)
(Camotes Island, Cebu). A festival depicting the different uses of the cassava and the economic opportunities it offers. Activities include a cooking contest, poster-making contest, a Best Booth contest, and a contest for the biggest cassava.
Pasko sa Kasakit
(Bantayan Island; Holy Thursday & Good Friday). A religious procession of life-size images of the death and passion of Jesus Christ carried in richly decorated & lighted carrozas.

Kadaugan sa Mactan (Mactan Island) - April 27
(Lapulapu City). A one-day re-enactment celebrated with pomp and pageantry every 27th of April to commemorate the historic battle of Mactan between the forces of chieftain Lapulapu and Ferdinand Magellan.

Barangayan
An annual celebration of Philippine independence held every June 12.

Banig Festival (Badian) - July (moveable)
A celebration of Badian's annual fiesta, showcasing the Cebuano and Badianganon culture, tradition, delicacies and local products, especially its famous mats (banig).

Cordova Dinagat Festival (Cordova) - August (moveable)
A festival characterized by street dancing and an interpretative-dance competition based on the fishing rituals and culture of the Cordovanhons.
Dinagat Festival
(Cordova, Cebu). The festival is characterized by street dancing & an interpretative dance competition based on the fishing rituals & culture of the Cordovahanons.

Nuestra Señora de Regla Fiesta
(Lapulapu City; November 20-21). Held to honor the patroness of Opon. This religious and social event reveals the deep religious faith of the people and their penchant for merry making. A food fair, carnival, procession, and a coronation of the Fiesta Queen highlight the festivity.
Carcar Fiesta
(Carcal, Cebu; November 24-25). Celebrated in honor of the town's patron, St. Catherine of Alexandria. Carcar town is noted for its old Spanish style houses in the quiet countryside setting. During fiestas, the residents would invite friends, relatives, and town visitors into their homes to taste popular local delicacies. A lively and enjoyable event.

Paskuhan
(Cebu City/province-wide). A Christmas celebration of songs and lantern making held during the month of December to spread good cheer to local residents and visitors alike.
Pasko sa Sugbo
(Cebu City/province-wide). An annual Christmas celebration by lighting & decorating the main thoroughfare in Cebu, starting from capitol down to Plaza Independencia. Other activities include nightly cultural shows by the different schools, parol, Christmas tree & daygon competition.
[Top]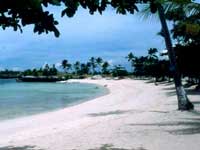 Mactan Island © Philippines Department of Tourism
Beaches
Numerous islets and beaches are connected to, or easily accessed from, the Cebu metropolitan area as day trips. Mactan Island is linked to Cebu City by a bridge and is the site of hundreds of beach resorts, most of which offer full scuba services and water sports facilities. Olango Island offers pristine white sandy beaches, while Kansatik, southeast of Olango, features an underwater mountain festooned with coral, sponges and colorful fish. Olango is also a paradise for bird watchers. A short drive north of Cebu City is Sagod, offering caves, beautiful beaches and some excellent dive spots. Capitancillo Islet, a little further northeast of Sagod, sits at the centre of a coral reef that extends for about two miles (three km). Calanggaman Islet, in the same area, features black coral and caves. Gato Islet has lagoons, coral reefs and a sea-snake breeding ground. On the southwestern shore of Cebu Island is Moalboal, another world-renowned dive destination, and Badian Island nearby has more underwater attractions and a five-star beach resort. Sun seekers also relish Argao, about two hours drive from Cebu City, where the beaches of Kawit, Mahawak and Mahayahay are picture-perfect.
Crocolandia
(Biasong, Talisay City). Situated beside the Mananga River in Talisay, it has for its main attraction a mini-zoo and a botanical garden. It is also equipped with picnic areas, restaurants, refreshment center, souvenir shops, butterfly sanctuary, boat & fishing area, and a library. CROCOLANDIA Biasong, Talisay City Tel. no. (63-32) 273-1842
Family Park
(Nasipit, Talamban). Nestled in the Nasipit mini-watershed, it provides families with an alternative and wholesome recreation site within the city. This 20-hectare area is nature-friendly. Trees surround the whole complex, the product of a reforestation effort in 1983. FAMILY PARK
Nasipit, Talamban, Cebu City
Tel. no. c/o MCWD (63-32) 419-3124 to 25 / 254-8434 to 39

Mountain View Nature's Park
(Sitio Garahe, Busay). Overlooking the city, it is situated near the cool flower gardens of Busay. This park comes with a mini-zoo, accommodations, and canteen. MOUNTAIN VIEW NATURE'S PARK
Sitio Gorohe, Busay, Cebu City
Tel. no. (63-32) 231-5444 /231-5454
Manager: Edgar Castillo
[Top]
Alta Vista Golf and Country Club
(Aznar Road, Pardo). Situated in the lower mountains of Pardo, this golf course offers a different and challenging terrain for the avid golfer. The golf course covers 60 hectares for a world-class, par 72, 18-hole course covering 5,670 meters. CONTACT INFORMATION: Aznar Road, Pardo, Cebu City;
Tel. no. (Registration Counter) (6332) 2727971 to 74 / (Golf Operators Office) (6332) 2727977; Telfax No. (6332) 2724090;E-mail: avgcc@skynet.net

Verdemar Golf Club
(Barangay Bancasan, San Remigio, Cebu). Situated near the sea, it also offers sea-side accommodations (Casa del Mar Resort Hotel). CONTACT INFORMATION: Barangay Bancasan, San Remigio, Cebu;
Telfax no. (Cebu office) (63-32) 344-8181/82 / (Resort & Golf club) (6332) 435-2222;
E-mail: info@vedemar-golf.com; Web site: http://come.to/casadelmar

Cebu Country Club Inc.
Situated just a few minutes from the heart of the city, it is the oldest existing golf course in Cebu. The course is spread over an area of 52 hectares of what used to be sugar land in the pre-war days. CONTACT INFORMATION; P.O. Box 698 Banilad, Cebu City;
Tel. no. (6332) 231-0345; Fax no. (63-32) 2314096
Club Filipino Inc. de Cebu.
It is an 18 hole golf course covering 59 hectares. CONTACT INFORMATION: Pulangyuta, Sabang, Danao City;
Tel. no. (6332) 2311676/2311666;
Fax no. (6332) 231-1667; Danao office tel. no. (6332) 200-4321
[Top]
OPON GUITARS - high quality, hand made by quitar makers in Lapu-lapu City.

FURNITURE - Cebu has a very big furniture industry, which caters not only to local but also foreign market, like USA, Europe and other parts of Asia. Cebu is famous for its high quality rattan furniture.

NATIVE DELICACIES - Cebu is famous for its chicharon, lechon, "puso", pork barbeque and fruit preserves like the dried mango.
... and many many more...