Our Recommendations...
Cebu Parklane Int'n Hotel**** (opening soon)
The newest hotel in Cebu. The hotel is handicap friendly as we have a ramp from the lobby entrance to the hotel and 3 elevators from the lobby to the rooms. There is also have at least 1 handicap room in each floor or a total of 12 similar rooms with showers that are handheld. At the moment, all rooms have bathtubs but I learned that we'll have a few rooms that won't
have any bathtubs.

In addition to these, all rooms are equipped with a safety deposit box, a coffee and tea making facility, complimentary mineral water, a hair dryer in all rooms, individually-controlled aircon. The security cameras will be installed sometime in September or October 06 when they have there grand opening. The pool with jacuzzi, the gym and the spa are also expected to be available by this time also.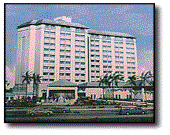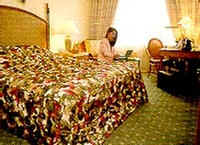 Hotel built in 1996. A modern and 12-storey building. The hotel is a 4 star hotel, is considered as Superior First class property. (CL Oct02) The hotel contains 12 floor(s) accessible with 3 elevators. 300 spacious rooms and suites offer the guests more comfort and for relaxation. 161 double room(s) with Bath 1 twin room(s) with Bath 22 suites. The Garden cafe is the major restaurant, with a cozy atmosphere serving international cuisine from breakfast to dinning. Disabled Facilities with 220v and 110v.
The rooms all have a great 110-volt power supply (a good thing to ask for) in the bathrooms and a removed tub for those requiring a shower. Easy roll under sink and accessible toilet are also present. The bed was a bit to low but we were able to manage. Marriott did a great job building this hotel using American ADA standards. The staff makes you feel like a king.
The Marriott is a hotel I can vouch for. I really enjoyed my stay here.

=
Cebu Midtown is a collection of 200 rooms perched on top of a department store and supermarket in Cebu City's Fuente Osmena. This 10-storey structure is set atop a three-level department store and supermarket in central Fuente Osmena, one of Cebu's historical landmark.

The hotel is just 30 to 40 minutes drive to the Mactan Cebu International Airport and Mactan's fine beaches. It is also close to uptown shopping, entertainment and business establishments. Cebu Midtown's tastefully furnished rooms are equipped with cable TV, mini bar, private bath and centralized air-conditioning system. Fax machines available in all suite rooms.
Amenities include: Safety Deposit Boxes, Restaurant, Bar, Coffee Shop, Banquet & Conference Facilities, Babysitting Service, Laundry Service, Fitness Center, Swimming Pool, Poolside Bar, Massage, Sauna, Disabled Facilities, Car Park
Handicap-friendly rooms are offered as well. Average floor area is 21.97 square meters for deluxe rooms and 40.46 square meters for suite rooms.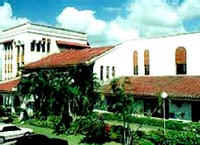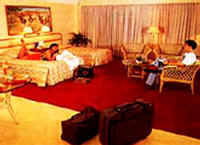 The hotel set in 5 garden hectares surrounded by a lush tropical garden The Montebello Villa is a superior tourist class hotel. A business center and meeting facilities, as well as recreation facilities including 2 outdoor pools, pelota courts, 2 tennis courts, bowling and putting green, are available. There is two restaurants offering the dishes from Spanish and light meal, plus a cafe offers a selection of snacks and sandwiches in 24hrs open services. Disabled Facilities 220v only

Your host, welcomes you. His hotel is very clean and small. The hotel is located at Saint Lawrence St., in the barangay of Lahug in Cebu City, There is a ramp in the front to access hotel. There is an elevator but No roll-in and shower, and they only have 220v. There are also dentistry services.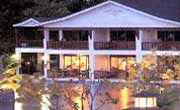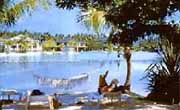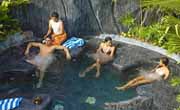 Truly international. Opened in late 1996, Plantation Bay has already had over a hundred thousand visitors from every corner of the globe. Virtually all of them agree that this is one of the best resorts they've ever been to. International visitors feel right at home at Plantation Bay. English is spoken throughout the resort; they also have Japanese, German, Italian, French, and Spanish-speaking staff members.
The rooms are a full 46 square meters (460 square feet), charmingly decorated with individually-selected furniture, oil paintings, and prints; equipped with remote-control TV, mini-bar, electronic safe, and split-package air-conditioning. And you'll love the bathrooms - spacious, with stone and marble finishes, separate shower and deep tub, hair-dryer, and extension phone.
They truly take pride in their kitchens at Plantation Bay, and can assure you of consistently delicious, carefully-presented dishes at every function, prepared by their award-winning chefs. The food is also very reasonably priced. They have a menu and a venue for you.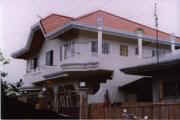 3rd Street, Mansueto Suburb, Bulacao Talisay, Cebu. About 10 miles South of Cebu City in a small development. Near the hills for cooler evenings. Air Conditioner in each Bedroom. About 4 miles from the Visayan Sea (Pacific Ocean) Cebu City is a 1 hour flight from Manila in the Philippines, with a population of over 2 million. House has lower level bedroom and 220v only.