Things to know & consider before you go...
In Cebu ...
(select a link)


Local Information
· Area
Cebu is roughly 124 miles (200 kilometers) long with a maximum width of 25 miles (40 kilometers). 940 linear yards (864 meters) away, across the Mactan Channel is Mactan Island. The island is made of coral stone and is approximately 23 square miles (60 square kilometers). It is connected to Cebu by means of two bridges.
· Geographical Information
Cebu is located in Central Visayas, 365 miles (588 kilometers) south of Manila---the country's capital city.
· Language
Cebuano is widely spoken in the Visayas and Mindanao, English and Filipino are spoken and understood
· Population
Cebu province: 3 million, Lapu-Lapu City: 131,660
· Time Difference
+8 GMT
Airport Information - Cebu
Travel Time from Airport to Hotel

· If staying on Mactan Island, most hotel/resorts can be reached in approximately 15 minutes from international airport

· If staying in Cebu City and the vicinity, most hotel/resorts can be reached in approximately 20-35 minutes from international airport Some even longer depending on your selection.

Airport Tax

· International departures: P550, Domestic departures: P100

Payment Method

· Cash

Currency Accepted

· Philippine pesos only
Airport Information - Manila
Airport Tax

· International departures: P550, Domestic departures: P100

Payment Method

· Cash

Currency Accepted

· Philippine pesos & USD only
Hotel & Resort Accommodations
Make sure the hotel you will be staying at knows your needs and that they can fulfill them. This is important for you to convey because one person's wheelchair accessible is another person's step. I sent most hotels a standard email hoping to get a response most were nice enough to respond. I choose the Marriott due to it's very accessible.

· Ask if they have assessable rooms.

· Make sure the doors are wide enough. – Measure your width

· Make sure that the bathrooms have a straight shot to the sink. Bathrooms wont have a roll in shower or a high sink unless you go to a newer hotel.

· Ask about the bed height.

· Ask if they have a 110 volt supply.

· Ask if they have a restaurant on the premises.

· Ask if they have transportation or if they can schedule it for you. At least from/to the airport.

I stayed at the Americanized Marriott Hotel in Cebu. What a great place for a wheeler to go. Everything is accessible except for, regrettably, the pool area. The staff is top notch and always polite. The restaurant always has great assortment of American and Filipino foods that is oh so good. The lobby is a wonderful place to hang out and grab a drink. At night it turns into an even better place for a nightcap while enjoying the music of a live easy listening band. There are ballroom facilities, small gift shop weight room and a few computers connected to the. Internet

There are wheelchair accessible rooms on most floors. The rooms all have a great 110 volt power supply in the bathrooms and a removed tub for those requiring a shower. Easy roll under sink and accessible toilet are also present. The bed was a bit to low but we were able to manage. Marriott did a great job building this hotel using American ADA standards. The staff makes you feel like a king.

· 220/250 volts, 50 cycles AC. Some hotels have 110V outlets and/or adapters are available upon request.

· More info Marriott Hotel – Cebu City http://www.marriotthotels.com/dpp/PropertyPage.asp?MarshaCode=CEBPH

See Hotels/Resorts page for more information.
Transportation
My biggest concern was, "How am I going to get AROUND".

This was a BIG-BIg-Big-big issue. No this part was so easy. Luckily my wife's family had contact with a guy named Terry. Singing Terry was a great find and resource. No, I didn't have a lift-equipped van. More like a van with a steep ramp to go into and out of. A little muscle power to turn me around and wha-la. I sit about 4-4" high so I really had to lean forward in getting in. The words still ring in my ears. Backword-backword! Slowely-Slowely!

The transportation prices needs to be discussed prior to arriving. Depending on your needs and desires, you can have transportation 24-7 during your trip

The driver is of course extremely knowledgeable in all areas as a tour guide and finding great inexpensive food, places to go, and even finding deals on Mactan guitars and other sought after desires.

See Transportation page for more information.
Food
The food of Cebu is comprised of many foods especially seafood, pork and chicken. I would tend to believe everything is safe to eat so try as much as you can. I ate so many different fish that I ended up losing 10 lbs.

My doctor suggested staying away from uncooked fruits and vegetables. Due to the fact that most farmers in the PI still use cow manure for fertilizer. However, I didn't listen too much. The mangoes were to die for. I also had a hepatitis shot before going. This is also highly recommended.

It was also suggested to me to stay away from dairy products due to the homogenate standards. Hmmm! And to stay away from San Miguel beer due to the supposedly addition of embalming fluid.

Any which way. The food is superb and you eat like a king. So many good things to eat and drink that, like me, you will wish you could eat more. You should contact your Doctor any which way. Ask his opinion… then…

EAT AND ENJOY!
Money & Purchases
·

The currency is the Philippine Peso. However. Everyone in the PI loves the US dollar. Not everyone accepts it but usually, if they do, you will get more for your dollar. See

Currency Exchange for the latest rates.

· The unit of currency is the peso. 1 peso is equal to 100 centavos. Credit cards and US dollars can be used even outside Cebu. Currency notes are available in denominations of 10, 20, 50, 100, 500 and 1,000.

· Credit cards and US dollars are widely accepted in major hotels and shops, though it may be difficult to cash travelers checks outside Cebu.

· Credit cards - are good too. But some malls will hold you hostage for hours while they heck out your credit status. In Cebu City, I recommend you not go to the SM Mall if you use credit cards. Just keep an eye on your final billing statement.

· ATM - It is recommended not to drag around a lot of money. For the most part I used an ATM card from a large bank here. You might still get small $2-$4 charges for using your ATM card but these fees are much less then the fees banks charge in the PI to convert your money. I would research your options and decide what is better for your needs. If you decide to go with the ATM idea, get an account from a large bank here. My smaller credit union bank ATM car was never recognized during my trip.

· Gold Cards – It has been recommended to me that a bank Gold Card can save you a lot of grief by insuring your purchases for 90 days from the date of purchase. Use this for purchasing something like a video camera that you'd use on the trip within that time frame, and enjoy peace of mind knowing it would be replaced if something happened to it.



· Gold cards also come in handy for avoiding collision damage waiver (CDW) insurance charges for overseas car rentals. Without a card, CDW can cost an additional $20-$30 per day. If you refuse the rental car company's CDW, and use your Gold Card for this transaction, you can avoid the CDW charges. In addition, your card company will pick up all or part of the bill in case you do have an accident. Check with your individual card company to ascertain their CDW policies.
Banking Hours
·

Banks and Government offices:


Banks are usually open 10 a.m. to 3 p.m. on weekdays and 9:30 a.m. to 11:30 a.m. on Saturdays.

· Offices:
Government and private offices are open from 8 a.m. to 5 p.m. on weekdays; though some may open on Saturday, the weekend is generally considered day off.

· Shops (Hours vary):
Most shops open at 10:30 a.m., closing at around 7 p.m. Lunch hour is usually from noon to 2 p.m.
Weather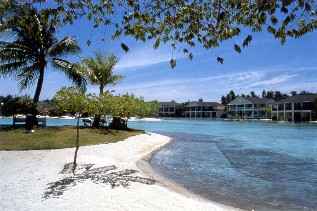 Cebu's weather is usually fair year-round. It does not have a pronounced rainy season; rains tend to be brief and followed by sunshine. Unlike some other tourist destinations in Asia, Mactan Island has exceptionally clean air and water, and is ideal for water-sports and scuba-diving throughout the year.

Month

Average Temp oF(oC)

Humidity

Mar--Mid May

89.6oF
(32oC)

70% to 90%

Mostly dry

Mid May--Mid Sep

86oF
(30oC)

80% to 90%

Rainy

Late Sep--Early Dec

89.6oF
(32oC)

70% to 90%

Mostly dry

Dec--Feb

77oF
(25oC)

70% to 90%

Mostly dry

As a modern metropolitan area, Cebu-Mactan has no significant incidence of malaria or other tropical diseases. Due to constant breezes and the absence of heavy industry, the air is clear and unpolluted. The seas around Mactan are crystal clear and have no dangerous jellyfish or sharks. Cebu is sheltered from typhoons by larger neighboring islands and it has no volcanic or earthquake activity.
Dress
Lightweight summer clothing is sufficient. Jackets may be used for slightly more formal occasions. A light suit would be appropriate for business. Clothes for men and women are much like the West.
Things to do!
· Eat lots of fish and roasted pig
· Go to the different islands
· "Tops" park overlooking city (15 km)**
· Basilica del Santo Nino (3 km)
· Carbon Market (3 km)
· Casa Gorordo (3 km)
· Chinese Taoist Temple (3 km)
· Fort San Pedro (3 km)
· Lapu-Lapu Statue (12 km)
· Magellan's Cross (3 km)
· Monument of Magellan (12 km)
· White Sand Beaches (12 km)
· Great shopping malls (0.1 km)
** All distances from Marriott Hotel, Cebu City
More to do … See Cebu & Things to Do! pages
Shopping
Cebu offers a whole host of mall boutiques, specialty shops and traditional markets.

Shoemart City---One of the largest malls in the country and the largest in Cebu. Here, you'll find a multitude of shops ranging from optical to house wares with imported brands such as Esprit, Benetton and Best of New York, as well as the Philippines' best-known designers.

The Ayala Center---Packed with world-class names such as Cartier, Christian Dior, Max Mara, Charles Jourdan and Salvadore Ferragamo and conveniently placed for an exciting day's shopping.

The Gaisano Country Mall---Widely known for its regular entertainment and celebrity store promotions, Gaisano caters to the young and trendy and also offers a full range of household items.

All these malls have movie houses, a children's entertainment center, a supermarket and a wide variety of food and beverage outlets. For those who seek out bargains and big sales, Cebu is the place to be.
Taxes
· Tax of 13.5% will be levied on services and purchases.
Tipping
· 10% service charge is usually added to the bill. If not, 10% of the bill is adequate for the waiters
Public Holidays
| | | |
| --- | --- | --- |
| Name of the Holiday | | 2002 |
| New Year | | 1 Jan |
| Bataan Day | | 9 Apr |
| Maundy Thursday | | 12 Apr |
| Good Friday | | 13 Apr |
| Labor Day | | 1 May |
| Independence Day | | 12 Jun |
| National Heroes' Day | | 26 Aug |
| All Saints' Day | | 1 Nov |
| Bonifacio Day | | 30 Nov |
| Christmas Day | | 25 Dec |
| Rizal Day | | 30 Dec |
| Last Day of the Year | | 31 Dec |

Please contact me if you need further information, new questions, or …